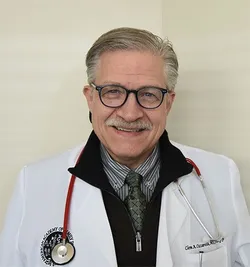 Dr. Ciccarelli, a native of Williamsport, Pennsylvania, graduated from Bucknell University (Chemistry, 1976) and continued to receive his medical degree (1980) from Wake Forest University. His internship/residency in Family Medicine was completed at the Geisinger Medical Center school of Medicine in Danville, Pennsylvania.
In 1983 he was recruited by Holy Spirit Hospital to start the first Fairview Family Health Center in Etters. Pa until 1992. At that time, he went on to establish the Green Hill Family Health Center in New Cumberland. During this period, he also served as the medical director for the Fairview Nursing Home and team physician for Red Land High School. Dr. Ciccarelli also practiced obstetrics (1983-1996), worked as a campus physician for Messiah College, Grantham, a team physician for Trinity High School and team physician for both the girls and boys West Shore United Rugby teams.
Dr. Ciccarelli also continues to serve his patients through in-patient medicine at the Holy Spirit/Geisinger Medical Center. His scope of practice includes the long-term acute care at the Select Medical Center (Holy Spirit Hospital), and several local nursing-rehabilitation facilities. Following patients through a myriad of facilities helps to insure continuity and consistency of care.
Dr. Ciccarelli has been married to his wife Maria for thirty-two years, they have five children and three grandchildren. One of his highlights was watching his children involved in sports, especially in basketball and rugby. They are members of St. Theresa of the Infant Jesus Catholic Church (New Cumberland) and St. Ann Byzantine Catholic Church (Harrisburg). He also serves as active member in the Cursillo Movement in the Diocese of Harrisburg.
Dr. Ciccarelli has been a life long basketball fan, enjoys college football, traveling and visiting with his grown children and their young families.
He attributes his passion for family medicine to his loving and caring parents who instilled an attitude of service, gratitude and faith. His father taught him all things were possible with God, and that miracles could only be possible if you believe in Miracles!